ONWARD CHRISTIAN SOLDIER:
Megadeth's Dave Mustaine talks of his spiritual reinvention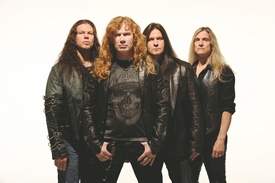 By Steve Wildsmith
Originally published: November 19. 2009 12:10PM
He helped found Metallica and, after losing his job in that band, went on to form another pillar of the genre that would redefine metal.
As bandleader of Megadeth since 1983, he had released one album after another that continually put him in the top tier of rock 'n' roll guitar players. He had toured the world, performing to a generation of headbanging young people who awaited the release of every new record like Moses taking those first stone tablets from God.
He swam in a sea of booze, indulged in every conceivable form of sexual excess and smoked, snorted, shot up and gobbled every substance both legal and illicit. But in 2002, it all seemed to come to an abrupt end when an accident left him unable to even make a fist with his left hand, much less pick up a guitar -- and Dave Mustaine found himself spiritually, emotionally and mentally destitute.
And then he found God.
For fans who associate the ferocity and brutality of Megadeth's brand of speed metal with doom and darkness, such a profound conversion by Mustaine was earth-shattering. But, Mustaine told The Daily Times during a recent interview, his own world was already shattered, and becoming a Christian was the one way he's found to put the pieces back together.
"There was a moment of reckoning when my arm was destroyed, and I was up on this hill, and there was a cross at the top of it," Mustaine said. "It was just one of those thoughts -- I was baptized a Lutheran, brought up as a Jehovah's Witness, got into witchcraft and Satanism and practicing black magic. My wife was in another thing, and I was thinking that was a cult, so I'd gone back to being a Jehovah's Witness, but I wasn't happy.
"Looking up at that cross, I said six simple words -- 'What have I got to lose?' And my whole life has changed. It's been hard, but I wouldn't change it for anything. I'd rather ... go my whole life believing that there is a God and find out there isn't than live my whole life thinking there isn't a God and then find out, when I die, that there is."
Not only did Mustaine convert to Christianity, he made a full recovery -- even though doctors told him he would never play guitar again, today he's ranked as the No. 1 greatest metal guitarist in the world by author and metal auteur Joel McIver. Since first bursting onto the music scene in the early 1980s, he's had to kick, claw, bite and scratch his way to the top of that list.
A native of California, Mustaine was on his own at the age of 15. Drawn to metal, he started playing guitar in the late 1970s, and in 1981, he answered an ad from a band seeking a lead guitarist. That band was Metallica, and after being fired for his alcohol and drug use in 1983, Mustaine quickly formed Megadeth, determined to be faster and heavier than his old band.
Although a bitter rivalry lasted throughout much of the 1980s, together the two bands (and, to a lesser extent, Anthrax and Slayer) invented a new sub-genre of metal -- thrash, or speed, metal. Fast, hard, brutal -- it was a style that elevated metal from the blues foundation laid by Led Zeppelin and Black Sabbath to a more savage form of artistry.
Beginning with 1986's commercial and critical breakthrough "Peace Sells ... But Who's Buying?," Megadeth would go on to sell more than 20 million albums over the past 26 years, with seven Grammy nominations and six platinum records -- "Peace Sells," 1988's "So Far, So Good ... So What!," 1990's "Rust In Peace," 1992's "Countdown to Extinction," 1994's "Youthanasia" and 1997's "Cryptic Writings."
Along the way, the metal frontier he helped to tame has expanded ad infinitum. Metal itself has splintered into dozens of different sub-genres, all of which owe a little something to Megadeth -- or, according to Mustaine, a lot.
"A lot of these sub-genres are developed to position people who can do no better than No. 2," he said. "If you have a sub-genre, all of the also-rans have a place to show off. If you have sub-genres, everybody's got their place in the sun, but it's confusing because of all of that fragmentation. I say we put all of these sub-categories back into hard rock and heavy metal and see where we all stand.
"We're always getting labelled -- people call us power metal, thrash, speed; at the Grammys, they called us heritage metal. Personally, I don't care what people call us. This is a band with a guitar player who grew up listening to British Invasion and likes punk rock, classical music and jazz -- and that comes out in my music."
There was a time, however, that Mustaine wasn't so sure of himself or his band. Over the course of Megadeth's long and troubled history, drugs continually led to breakdowns in the studio and on the road. In the past 26 years, almost two dozen members have shuffled in and out of Megadeth's revolving door, and Mustaine has been to treatment for substance abuse a number of times -- in 1989, 1993 and most recently in 2002, when a freak accident left him with nerve damage that doctors originally thought would be permanent.
After his conversion to Christianity, however, he made a remarkable recovery -- and was determined to make it last, regardless of those who derided his conversion as selling out.
"People were calling me out, saying I was (weak) or that I was trying to be cool," Mustaine said. "People were saying stuff about the bands I chose to play with. The thing is, I didn't want to start out on the wrong foot -- I wanted to live by that old saying, 'When in doubt, leave it out.'
"I didn't want to go into this and live my life like I was. When I got saved, I really wanted to make a change. I understand now that things aren't quite as heavy as I thought they were back then, but I'm glad I protected myself (in the beginning). It's no secret that there are a lot of people who are haters -- people who troll around the Internet, trying to hurt me and my band.
"The only reason it hurts me is because my daughter reads that stuff, and I think if I just sat down and talked to them, they'd say, 'Wow -- I didn't even think about that,'" he added.
After reclaiming his spot as one of rock's preeminent guitarists, Mustaine has continued to tour and record regularly with Megadeth. The band's most recent album, "Endgame," was released earlier this year, featuring new guitarist Chris Broderick -- a player that Mustaine allows may even be better than he is.
"To be the No. 1 rated guitar player in the world is a gift from God and I'm stoked about it, but I think Chris is better than I am, anyway," he said. "Either way, I don't put too much earthly merit on it."
He may not, but others sure do -- at last year's metal Hammer Golden Gods Awards ceremony in the United Kingdom, Mustaine was crowned "Riff Lord"; at the 2009 Revolver Golden Gods Awards here in the States, he was granted the "Golden God" title. And while he may have incorporated a healthy dose of humility into his core character after accepting Christ seven years ago, he's still a metal legend -- and that's something no amount of humility will ever be able to tame.
"All these people who post all of the negative stuff on all of these websites, I own them -- they would be nothing without me," he said. "I'm their total higher power. I've got absolute 100 percent control over them, because they can't go a day without talking about me.
"It ain't hurting anybody, me being a nice guy," he said. "If being a Christian is going to water down my music, then 'Endgame' must've slipped through the cracks, didn't it?"
This article was taken from the following site :
---------------------------------------------------------